Posted in
1 - Injuries
,
Eddie Lacy
,
Film Study
,
Game Recaps
,
James Starks
,
NFL Network
,
NFL Rules Committee
,
Packers News
,
Penalties
,
Running Backs
,
Seasons
,
Suspensions
,
Thomas Hobbes
by
Thomas Hobbes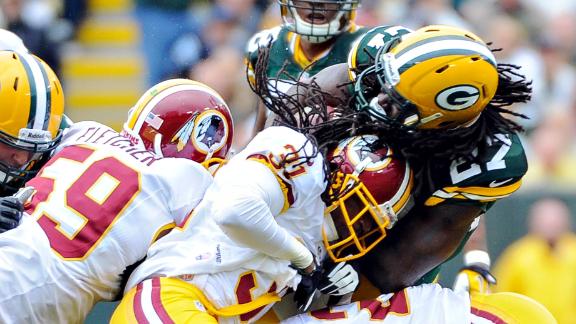 A lot of fans were angry and confused in regards to the Brandon Merriweather hits on Eddie Lacy and James Starks.  And rightly so, Eddie Lacy suffered a concussion on his first carry and was done for the day and naturally there was a lot of outrage as to why no penalty flag was thrown.
Afterwards, many fans have been calling for more consistency in terms of penalties, as they don't understand why Merriweather wasn't penalized on the Lacy hit but Dashon Goldson and Bernard Pollard were.  Obviously Packers fans were a little happier with "karma" being served with Merriweather ultimately knocking himself out on the James Starks' hit but some Washington Redskins fans have complained that actually Starks should have been penalized for knocking Merriweather out (which is pretty ridiculous since defensive players attack the offense, not the other way around).
I think that realistically fans don't really understand the rules of the game and only use them when it benefits their team, so in an effort to see what the rules are exactly and how they apply to these hits, I've gone through the NFL rulebook and some of their ruling memos in an attempt to see what exactly is going on.
Brandon Merriweather hit on Eddie Lacy (click to see the video)
Read more... (1720 words + 1 image, estimated 6:53 mins reading time)