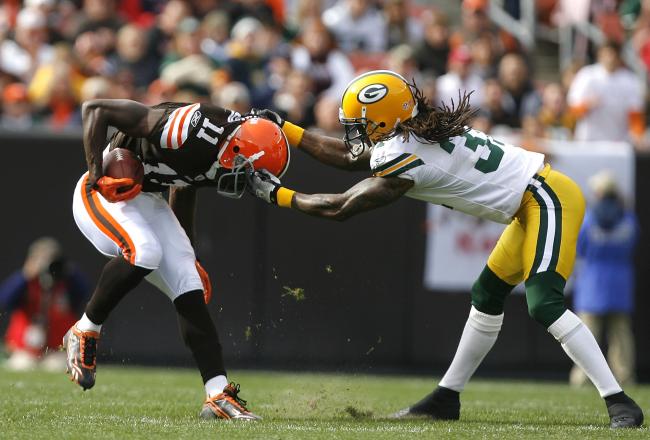 Is it possible for a preseason game to suck?
If it is, then the Green Bay Packers experienced it last Thursday in their 21-13 loss to the San Diego Chargers at Qualcomm Stadium in their preseason opener.  Not only did the Packers lose, the starting offense came out flat with reigning MVP Aaron Rodgers posting a quarterback rating of 0.0 (yes, it's a meaningless stat, but the offense looked putrid regardless).
Throw in a possible season ending hamstring injury to starting linebacker Desmond Bishop and the 2012 season opened with a rather loud thud for Packer Nation.
That said, it's a new week and football returns to Lambeau Field tonight when the Green Bay Packers take on the Cleveland Browns.
The Packers enter the game a little healthier than in the game against the Chargers, they still have a ways to go before they can be declared ready to go before the regular season starts.  Greg Jennings is still out with a concussion and the Packers must be more worried about his health than they are letting on.  Marshall Newhouse finally returned to practice and should see his first game action of the season.
With the starters likely seeing very limited action once again, here are some things to look forward to as the Packers' preseason schedule hits the halfway point:
James Starks has been put on notice
That's the first thing that crossed my mind when I read the Packers signed veteran running back Cedric Benson to a one year contract earlier this week. Starks got off to a horrible start last week as his dropped pass sent the first team offense into a tailspin from which it never recovered.
Throw in Starks' disappointing 2011 and his inability to remain fully healthy and the Packers had no choice but to bring someone in to light a fire under his rear end.  Mike McCarthy has said he wants to "fundamentally change" how the Packers run the ball which was a not too subtle shot across the bow for Starks.
It's a good sign that the Packers seem intent on getting a run game going, but do they have the proper personnel to help take some pressure off of Rodgers?  Stay tuned.  Benson won't be playing in the game, so this is a golden opportunity for Starks to show he can be the man. Read more... (870 words + 1 image, estimated 3:29 mins reading time)