Posted in
2013 Regular Season
,
Chicago Bears
,
Clay Matthews
,
Defense
,
Defensive Players
,
Detroit Lions
,
ESPNMilwaukee.com
,
Jason Wilde
,
Mike McCarthy
,
NFC North Division
,
Seasons
,
Thomas Hobbes
,
TV/Radio
by
Thomas Hobbes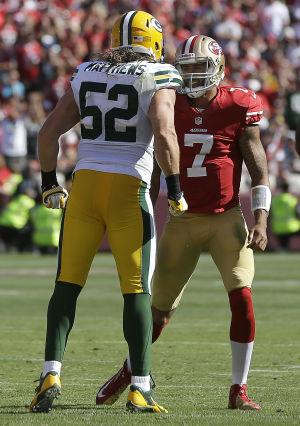 I think everyone agrees Clay Matthews made a bone headed decision by trying to take down Colin Kaepernick on 3rd down; but deep down, especially after the miserable loss to the 49ers in the playoffs last year, we all cheered.  Admit it, you were happy when Colin Kaepernick hit the turf (I'll admit it).  I'll even wager some Packers fans kept cheering as Matthews and the rest of the defense got in the ensuing brawl.
This in my mind was a sort of collective validation for Packers fans, who were sick and tired of listening to the allegations of the Packers being a "soft" team and were looking for some example to show everyone otherwise.  On Green and Gold Today, surprisingly multiple callers chimed in that they had no problem with late hit and wouldn't mind seeing Matthews do the same again.
To me this is a very dangerous slippery slope; it's one thing to play aggressive and at the edge of the rules, it's another thing to break them.  You simply have to look east to see what happens when a team takes it's aggressiveness too far.
The Detroit Lions to become the first ever team in NFL history to go 0-16 after 7 years of catastrophically poor management by general manager Matt Millen.  Obviously with such a dumpster fire there was a clean sweep within the organization and the Lions ownership sought to bring in a new mentality to the team.  Starting with head coach Jim Schwartz, the Lions sought to be "tougher", a team that wouldn't be a push over and get back to being a relevant organization.  Sounds like a good plan, but ultimately I think it's backfired; in the past couple seasons the Lions have been a far better team than their record suggests, which is directly due to their "toughness" literally losing them games.
Since Schwartz's hiring, the Lions have perennially been one of the most penalized teams in the NFL and are now famous for their lack of control and abundance of head scratching personal fouls.  Ndamukong Suh has been voted as the dirtiest player in the NFL after multiple questionable hits and some very stupid mistakes including the EDS stomp, the Matt Schaub's stomp and just last week the John Sullivan low block that apparently will cost him $100,000. Read more... (935 words + 1 image, estimated 3:44 mins reading time)