Posted in
2013 NFL Draft
,
Defense
,
Free Agency
,
NFL Draft
,
NFL Draft Profiles
,
Off-Field
,
Practice Squad
,
Seasons
,
Special Teams
,
Thomas Hobbes
,
UDFA
,
Undrafted Free Agents
by
Thomas Hobbes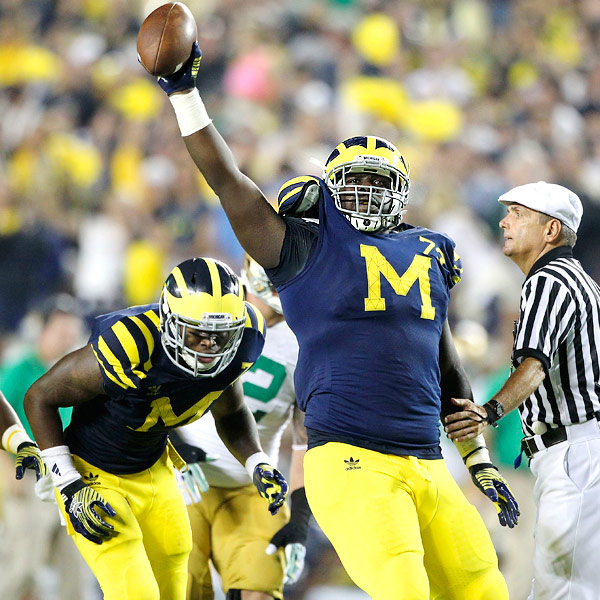 Green Bay Packers NFL Draft prospect profile: DT William Campbell
Player Information:
William Campbell, DT Michigan
6-5, 311 pounds
Hometown: Detroit. MI
Pro Day: 
40 yard: 5.15
Bench: 35
Vert: 27″
Broad: 107″
3 cone: 7.28
News and Notes:
William Campbell is your quintessential late round/priority rookie free agent.  Coming into Michigan, Williams was a 5 star recruit who never lived up to expectations; typically overweight and unrefined, Williams bottomed out when he was asked to switch to offensive line during his sophomore season.  That didn't work out either and by his junior year he was back to defense.  Things took a turn for the better when Williams reported to camp in his senior year after dropping 46 pounds, which translated to on the field production.  However, just as things were improving, Williams was charged with  felony malicious-destruction-of-property when he attempted to slide across a car hood ala Starsky and Hutch.  In the end Campbell presents an enticing mix of size and athleticism muddled with immaturity and inexperienced.
 What they're saying about him: Read more... (847 words + 1 image, estimated 3:23 mins reading time)
CBSSports.com: "Looks the part with a tall, well-built frame, broad shoulders and a large wingspan (80 inches). Can carry a lot of weight on his frame without losing his athleticism. Quick feet for his size with the agility to collapse inside and disrupt the pocket. Natural power to bully blockers at the point of attack, reset and redirect. Takes up room and has the size/strength combination to command double-teams."