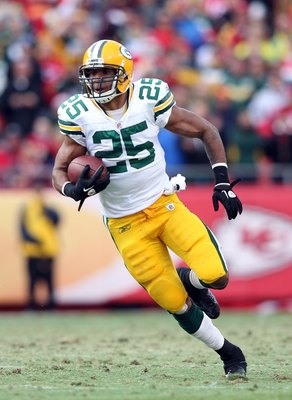 The hot topic around the water cooler all around Wisconsin (and other businesses that are home to hard working Cheeseheads) has been the fate of Donald Driver.  As the most veteran member of the Green Bay Packers as well as one of the most beloved professional athletes in Wisconsin, whether Driver will be back on the team has been "the" discussion so far of the Packers offseason.
There is another decision looming however that arguably would have an even greater effect on the Packers roster: whether or not to bring back RB Ryan Grant who is now an unrestricted free agent.
This isn't meant to diminish what Driver has meant to the Packers.  He's been a locker room leader for practically forever and his off the field efforts have made Driver a legend in the mind of Packer fans.  He deserves every ounce of praise he's getting.
With the Packers' roster loaded with talent at the wide receiver position, Driver's potential departure would not have as much an impact on the field as the loss of someone like Grant would potentially have.
Why would the loss of Grant, who entered the season as practically a backup to James Starks, have such a wide reaching effect on the offense despite its heavy reliability on the pass?
Well, let's take stock of the other halfbacks on the roster:
First is Starks.  The second year running back spent much of 2011 nursing one form of injury or another.  Factor in his rookie season in which he spent a significant amount of time on the physically unable to perform (PUP) list and his durability must be called into question.
Starks is still likely the future at the running back position with Grant approaching his 30th birthday this December.    However, Grant showed he still had some burst late in the season. Starks missed three of the final four games of the season (one being a meaningless game against the Lions) and Grant averaged 8.5, 5.5, 5.5 ad 4.0 yards per carry in those games, respectively. Starks in his final four games averaged 3.5, 4.8, 1.7 and 2.2 yards per carry.
Both backs nearly mirrored each other statistically. Keep in mind that Starks played in 13 games and Grant played in 15.  Starks finished with 578 yards on 133 carries (5.8 yards per carry average) and one touchdown while Grant had 559 yards on 134 carries (4.2 yards per carry average) and two touchdowns. Read more... (944 words + 1 image, estimated 3:47 mins reading time)