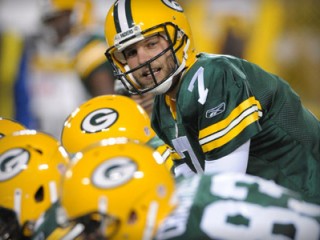 As a staff writer at AllGreenBayPackers.com, I did my own 53 man roster prediction and as I said at the beginning of that article, I am wondering what the hell I was thinking now.
I thought Chastin West and Tori Gurley had too good of a preseason and one of them would make it onto the team as the 6th wide receiver; neither made the team (but both were signed to the practice squad).  I thought Caleb Schlauderaff would make the team based on his draft status and the lack of depth of the interior offensive line; he was traded to the Jets, but not before being informed that he was going to get cut anyways. Finally I thought Graham Harrell would definitely make the team.
With West, Gurley, Schlauderaff, I wasn't all that surprised that thing hadn't turned out the way I predicted; but with Harrell it just didn't make any sense.  Harrell was supposed to be the insurance policy for an Aaron Rodgers concussion and a Matt Flynn trade.  He had a memorable win against the Colts in week 3 of the preseason and had a good enough training camp that many (including myself) assumed he was good enough to be a backup with the majority of teams.
So when Graham Harrell was first cut by the Packers, then cleared waivers and then re-signed to their practice squad, I met each event with a little disbelief.  How could someone who looked so good at football's toughest position in the preseason not only get cut, but also not even get claimed?  I would look at the San Francisco 49ers depth chart and wonder, how could Alex Smith and Colin Kaepernick be so bad during the preseason and still be on the team, but why no love for Graham Harrell?  What had happened?
My only conclusion was that every other fan, the media and myself had got overzealous.  During the Ted Thompson era, we've come to expect a ridiculous amount of depth at all positions.  One prime example was that last year 5 players, an inordinate amount, were signed to 53 man rosters after getting cut by the Packers. (ironically this year no players were claimed by other teams after being cut by the Packers)  Fans and the media a like love to tell stories of how unheralded backups up stepped up and helped win Super Bowl XLV.  But really, in the free agency era, it simply isn't possible to stockpile good players; there simply isn't enough money. Read more... (1480 words + 1 image, estimated 5:55 mins reading time)