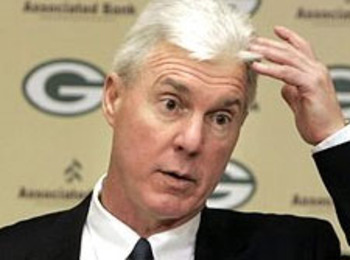 Let's change the pace a little bit, let's talk about you.
Let's talk about you the fan.
Now that General Manager Ted Thompson has won a Super Bowl using the "Thompson Method ™", he can apparently do no wrong in the eyes of the fans.  People who had been clamoring for years to get more veteran free agents and big name signings have quieted down, ready to admit the error in their ways and venerate the white-haired one.  Even the most staunch Thompson hater is now ready to board the "draft and develop" bandwagon that Thompson preaches.
One interesting fact that I've noticed is that almost as adamantly as fans were criticizing him before he won a Super Bowl, fans are now just as adamantly supportive of him now that he has won one.  Fans now seem to think the same way as Thompson now, which brings up a interesting question: are Packers fans now psychologically predisposed to think like Ted Thompson?
It's an interesting thought.  If you are a Packers fan right now, you couldn't be happier and you'd like status quo to continue (repeat anyone?).  Obviously Ted Thompson did something right to win a Super Bowl (right?), so it makes sense that people are following in Thompson's rationale now.
For example, currently one of the big stories in the news is how long veteran wide receiver Donald Driver is going to remain a Packer.   Jason Wilde and Bill Johnson at Green and Gold Today have argued that if you took Driver's name out of it, he's one of those players that Thompson typically likes to cut and fans seem to echo that sentiment.  What I think people have forgotten is that Driver beat out Jordy Nelson and James Jones for the #2 wide receiver spot behind Greg Jennings last year and appears to still be the #2 wide receiver in training camp this year.
It's not like the Packers gave him the spot because of his name either, he's had to hold off every other wide receiver for that spot just like everyone else.   One other thing to consider is that the only way they will cut Driver (or any player for that matter) is if they get a player with more upside.  Do players like Brett Swain, Shaky Smithson, Tori Gurley etc. have more upside than Driver? Read more... (1499 words + 1 image, estimated 6:0 mins reading time)