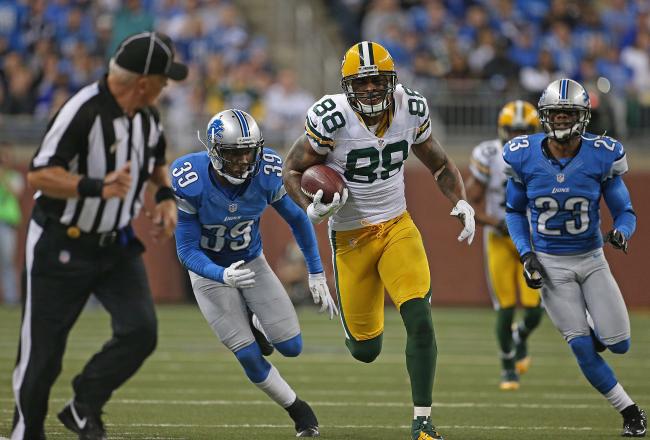 Happy Thanksgiving recovery day/Black Friday to you all.  In this weeks installment of Hobbjective Analysis, I will be looking at Jermichael Finley's 31-yard screen play and going in depth on why the Packers executed the play so well.
The Situation: The Packers are trailing by 6 with only 3:43 left in the 4th quarter.  While the Packers haven't exactly been playing stellar football, the Detriot Lions have been all over the place, Matthew Stafford is consistently overthrowing his targets while getting chased around by a Packers defensive front seven that is missing Clay Matthews.  The Packers know that they have to score on this drive in order to win the game, going 4 and out or committing a turnover essentially seals the game for the Lions.
The formation: The Packers are in a 3-1-1 (3WR-1TE-1RB) set with WR James Jones (89) split wide left, WR Jordy Nelson (87) split wide right and WR Randall Cobb (18) in the right slot.  TE Jermichael Finley is inline of the right tackle. In the backfield RB James Starks (44) is aligned to the right of QB Aaron Rodgers, who lines up in the shotgun.  On the offensive line, there has been a lot of shuffling going on; after starting RT Bryan Bulaga landed on IR, LG TJ Lang has shifted over to RT while Evan Dietrich-Smith (62) has taken LG Lang's spot.  The three other starting linemen (LT Marshall Newhouse (74), C Jeff Saturday (63), RG Josh Sitton (71)) remain in their original positions.
In response, the Lions play the standard 4-3, Tampa-2 scheme with 4 defensive linemen, 3 linebackers, 2 corners and finally 2 safeties each aligned about 10 yards away from the line of scrimmage.  Overall, the Lions had been playing the majority of the game (and their season) under this formation.  The Lions have heavily invested in their front 4 in order to generate pass rush without having to send extra players and they need to cover up for a tattered defensive secondary who has back-up and back-up of the back-up safeties in play.
The Snap: RB Starks leaks out of the backfield immediately while Rodgers drops back to a clean pocket.  On the perimeter, the Lions are playing man-cover with their corners covering WR Jones and WR Nelson on the outside while OLB Justin Durant (52) covers WR Cobb in the slot.  This leaves the safety to cover TE Finley while presumably the other safety drops back into zone coverage making it a cover-1 man defense. Read more... (977 words + 7 images, estimated 3:54 mins reading time)